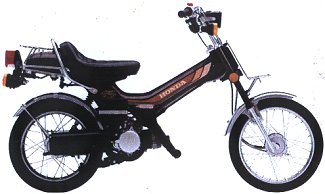 The Honda NU50M'83
Urban Express Deluxe did not change much from the 1982 model. Two colors were available: Cosmo Black Metallic (with blue stripes) and Century Brown Metallic (with brown stripes). The starting system used both a kick starter and an electric starter.
Engine: Proven, reliable, 49cc, two-stroke with automatic oil injection system
Transmission: Honda V-matic™
Drive: Belt drive
Ignition: Solid state CD
Starter: Electric
Accessories: Standard front and rear racks
Guage: Oil level monitor
Wheelbase: 1204mm (47.4 in.)
Seat height: 696mm (27.4 in.)
Fuel capacity: 4 liter (1.1 gal.)
Dry weight: 60 kg (131.2 lb)
Interestingly the U.S. sold two different models: one for the state of Iowa and another for the rest of the states. The serial number for the Iowa bikes began JH2AB1318DK000001 while the others began JH2AB1309DK000001.