Ninja 650R
Manufacturer
Kawasaki
Also called
ER-6n, ER-6f
Production
2006 — present
Class
Sport bike
Engine
649 cc, 11.3:1 CR, liquid cooled, DOHC, parallel twin with digital fuel injection
Transmission
6-speed casette-style
Suspension
Front: 41 mm Hydraulic Telescopic Fork
Rear: 4.9 in. Single Offset Laydown Shock with Adjustable Spring Preload
Brakes
Front: Dual 300 mm Petal Disc with 2-Piston Caliper
Rear: Single 220 mm Petal Disc with hydraulic caliper
Tires
Front: 120/70-17
Rear: 160/60-17
Rake, Trail
24.5°, 102 mm (4.0 in)
Wheelbase
1,405 mm (55.3 in)
Dimensions
L 2,100 mm (83 in) W 760 mm (30 in) H 1,210 mm (48 in)
Seat height
790 mm (31 in)
Weight
178 kg (390 lb)
Fuel capacity
15.5 l (4.1 US gal)
Related
Ninja 250R, Ninja 500R
Similar
Suzuki SV650
The Kawasaki Ninja 650R is the North-American-market, faired version of the motorcycle ER-6n, known as the ER-6f elsewhere in the world, introduced in 2006. The 650R is a middleweight twin motorcycle, designed for normal use on paved roads. It has modern styling and features, with low-seating ergonomics, a low center of gravity, and respectable, manageable power output. Its design was intended to appeal to a wide-ranging audience from newcomers to seasoned riders. The design was meant to maximize rider comfort and integration, and be aesthetically equivalent to larger, more powerful superbikes.
The 650R/faired ER-6, known as the ER-6f overseas, was introduced to the market in 2006 by Kawasaki Motorcycles. The unfaired ER-6n was not sold in North America until the 2009 model year. The 2008 650R has an MSRP of $6,499 USD, $200 more than the 2006 model. The motorcycle fits above the Ninja 250R & Ninja 500R models which already existed in Kawasaki's sportbike lineup, which includes the famous Ninja ZX models. For 2009, Kawasaki released an updated Ninja 650R which includes new bodywork, mirrors, gauges, lighting, and a new tune on the same 649cc engine. The curb weight is reported as 440.9 lbs instead of the previous dry weight of 393. The MSRP of the 2009 model is $6,799, making it the most expensive Ninja 650 to date.
2006-2009 Model Specifications
Displacement: 649 cc
Compression Ratio: 11.3:1
Fuel Tank Capacity: 4.1 gal
Dry Weight: 178 KG (393 lbs). (2009 Model - 440.9 lbs)
Seat Height: 790mm (31.1 in).
Engine Type: 4-Stroke, Liquid-Cooled, DOHC, 4-Valve per Cylinder, Parallel Twin
Carburetion: Digital Fuel Injection with (2) 38mm Keihin Throttle Bodies
Bore & Stroke: 83.0 x 60.0 mm
Ignition: Digital CDI
Cooling: Liquid
Transmission: 6-Speed
Final Drive: O-Ring Chain
Frame: Semi-Double Cradle, High-Tensile Steel
Rake/Trail: 25°/106mm in.
Front Tire Size: 120/70-17
Front Suspension: 41 mm Hydraulic Telescopic Fork
Front Wheel Travel: 4.7 in.
Front Brake Type: Dual 300 mm Petal Disc with 2-Piston Caliper
Rear Tire Size: 160/60-17
Rear Suspension: Single Offset Laydown Shock with Adjustable Spring Preload
Rear Wheel Travel: 4.9in.
Rear Brake Type: Single 220 mm Petal Disc with Hydraulic Caliper
Overall Length: 82.9 in.
Overall Width: 29.9 in.
Overall Height: 50.0 in.
Warranty Included: 12-Month/Unlimited Mileage Limited Factory Warranty
Performance
Horsepower Peak (est.): 72 bhp (54 kW) @8,500 rpm
Horsepower Peak (measured): 63.7 bhp (47.5 kW) @8,700 rpm
Maximum Torque (est.): 48.5 ft·lbf (65.8 N·m) @7,000 rpm
Maximum Torque (measured): 44.5 ft·lbf (60.3 N·m) @7,200 rpm
Top speed: 135mph (Electronically Limited)

Colors (US)
2006: Galaxy Silver/Metallic Graystone/Flame Persimmon Red, Ebony/Galaxy Silver/Flame Persimmon Red
2007: Candy Plasma Blue, Passion Red
2008: Sunbeam Red, Lime Green, Metallic Diablo Black
2009: Lime Green, Passion Red, Metallic Diablo Black
Common Complaints
The 650R or ER-6F was released shortly after the original "naked version" and the full fairing was added on directly to this original design. Unfortunately, vibrations from the running engine causes a problem commonly referred to as "fairing buzz". A buzzing noise from the front fairing is most notable in the low- to mid-range of the engine when vibrations are strongest. Reports of this problem have identified the upper left fairing and windshield as potential sources of the noise, but this problem is not limited to only those locations. Improvised custom solutions for this problem include rubber washers, electrical tape, and weather stripping; however, a fix covered under warranty was later provided by Kawasaki first in the USA, then later in other countries such as Canada, the UK, and Australia.
Many early 2006 owners did not receive "helmet tethers" (used to secure helmets to the bike when not riding). In most cases Kawasaki shipped the cables to owners free of charge, because installation is easy enough for individuals to do themselves.
For some owners the mirror stalks are not long enough and, as a result, do not allow for a full view to objects (including cars) directly behind the rider.
The handlebars remained unchanged from the original ER-6N design, which are more suited to more traditional "roadster" style motorcycles and offer a fairly unagressive, almost upright riding position. With the Ninja 650r aimed at being more of a sports bike rather than a middleweight tourer, the riding position feels inappropriate to some, although the handlebars and their mounting are a standard type and can easily be replaced with after-market parts.
ER-6n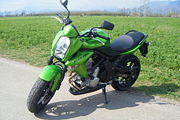 ER-6n, now available in the US for 2009

In Europe the Ninja 650R is sold as the ER-6f ("f" denoting faired version) of the ER-6, the "naked" roadster version is sold as the ER-6n. In 2009, Kawasaki introduced the ER-6n in the USA. The ER-6f differed slightly from the Ninja 650R as it featured the passenger handlebars as standard and a full single colored fairing. In addition the option of ABS brakes were made available for both the ER-6n and ER-6f. There is also a derivative of the ER-6 called the Versys which utilises many of the component parts. In many European countries the ER-6n naked version has proven considerably more popular than the 6f.
External links
Kawasaki motorcycle timeline, 1990s–present
Type
1990s
2000s
2010s
0
1
2
3
4
5
6
7
8
9
0
1
2
3
4
5
6
7
8
9
0
Standard
W650
Versys
ER-5
ER-6n/ER-6f/Ninja 650R
Z750
Z1000
ZRX1100
ZRX1200R
Sport
Ninja ZX-2R/Ninja ZXR250
ZXR400 (L Model)
ZX600J/Ninja ZX-6R
ZZR600
ZXR750
Ninja ZX-7R
GPZ900R
ZX900/Ninja ZX-9R
Ninja ZX-10R
Ninja ZX-12R
ZZR1400/Ninja ZX-14
Touring
ZR-7
GTR1000/Connie/Concours
1400GTR/Concours 14
Cruiser
Vulcan 900 Classic/VN900B
>MotoGP
Ninja ZX-RR