| | |
| --- | --- |
| Click to view this decal | |
Kawasaki Ninja ZX-6R
Manufacturer
Kawasaki
Production
1995-present
Class
Sport bike
Related
Kawasaki Ninja ZX-6RR
Kawasaki Ninja ZX-10R
Similar
Honda CBR600RR
Suzuki GSX-R600
Triumph Daytona 675
Yamaha YZF-R6
The Kawasaki Ninja ZX-6R is a Kawasaki middleweight sport bike. It was introduced in 1995 and has been constantly updated throughout the years in response to new products from Honda, Suzuki, and Yamaha. The ZX series is what was known as the Ninja line of Kawasaki motorcycles in the 1980s and still carries the moniker in North America today.
History
When Kawasaki introduced the ZX-6R in 1995, it was the industry's first middleweight sport bike with an aluminum frame. It had a dry weight of 401.2 lb (182.0 kg), wet weight of 454 lb (206 kg), and was capable of accelerating 0-60 mph (97 km/h) in only 3.6 seconds.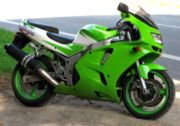 1997 Kawasaki Ninja ZX-6R
With competition from Honda's CBR600F4i, Suzuki's GSX-R600, and Yamaha's YZF-R6 getting more aggressive, Kawasaki decided to make an unusual move for the 2002 model year. They increased the capacity of the traditional 600 cc (37 cu in) motor to 636 cc (38.8 cu in). For riders who needed bikes for displacement-restricted racing, Kawasaki also made available a limited production 599 cc (36.6 cu in) version called the Ninja ZX-6RR, but the 636 cc (38.8 cu in) ZX-6R would be their main mass production middleweight sport bike.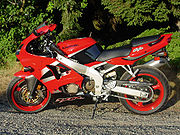 2002 Kawasaki Ninja ZX-6R
2003 brought many new changes to the ZX-6R, or ZX636 as it is often referred. The engine was now fuel injected and engine speed was raised around 500 rpm which resulted in a slight gain in power. Radial-mounted 4-piston brakes replaced the previous 6-piston brakes and the front forks were now inverted. Chassis improvements resulted in higher rigidity and less weight. An all digital instrument panel was also introduced and a larger ram air inlet moved to the center over the headlight, running through the headstock. The bike carried over to the 2004 model year with just color scheme changes. The ZX-6RR won the Supersport category award for Masterbike 2004 and placed 3rd overall. MSRP for the 2003/2004 models was $7999 USD.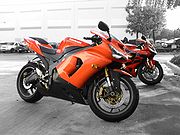 2005 Kawasaki Ninja ZX-6R
In 2005, Kawasaki again revamped the ZX-6R. Engine speed increased again by 1,000 rpm resulting in 105 hp (78 kW) at 12,250 rpm. [1] The frame and swingarm were updated, but the main changes from its predecessor lay in the design. The aluminum frame was now painted flat black, fairings were more round, and integrated turn signals were used (euro model). The exhaust was now centrically under the seat (a configuration commonly referred to as an undertail exhaust). Most of these changes were mirrored in the 599 cc ZX-6RR. For the second year in a row, the ZX-6RR again won the Supersport category award for Masterbike 2005 and placed 3rd overall. The bike carried over to the 2006 model year with minor suspension changes and new color schemes. The 2005/2006 ZX-6Rs had an increased MSRP of $8,699 USD.
After four years of offering their 636 cc ZX-6R for street use and an entirely separate 599 cc ZX-6RR for displacement-restricted racing classes, Kawasaki offers only one ZX-6R for 2007, and it displaces 599 cc. Previous years of the ZX-6R's engines were all built from the same basic design, but the all-new engine for 2007 was redesigned from the crankcase up. In following with what their competitors had already been doing, Kawasaki's new engine features a stacked gear arrangement in which the crankshaft, primary drive and countershaft are placed in a triangular format for a shorter, more compact powerplant. It's now about 40 mm smaller in both length and width, said to yield greater cornering clearance. By using a former 125 cc Grand Prix racer as the ZX-6R's chief development rider, Tomomi Manako, Kawasaki claims a focus has been put on track usage. Frame, swingarm, suspension, brakes, and body are completely redesigned and the bike shares very few parts from the previous model. MSRP was increased to $8,999 USD and the ZX-6R expected to carry over to the 2008 model year with just color scheme changes.
Specifications
All specifications are manufacturer claimed.
2003/2004
ZX-6R
2005/2006
ZX-6R

[

2

]

2005/2006
ZX-6RR

[

3

]

2007/2008
ZX-6R

[

4

]

Engine type
4-Stroke, Liquid-Cooled, DOHC, 4 Valve Cylinder Head, Transverse In-Line 4-Cylinder
Four-stroke, liquid-cooled, DOHC, four valves per cylinder, inline-four
Displacement
636 cc
599 cc
Bore/stroke
68.0 mm x 43.8 mm
67.0 mm x 42.5 mm
Power
125 bhp (93 kW)
130 bhp (97 kW) @ 14,000 rpm
107.5 bhp (80 kW) @ 13,000 rpm
107 bhp (80 kW) @ 14,000 rpm
Maximum torque
49.4 ft·lbf
52.0 ft·lbf @ 11,500 rpm
46.4 ft·lbf @ 11,000 rpm
42.9 ft·lbf @ 11,900 rpm
Compression ratio
12.8:1
12.9:1
13.3:1
13.9:1 / 13.3:1 (2008)
Fuel injection
EFI with Keihin 38 mm Throttle Bodies
DFI with Keihin 38 mm Throttle Bodies (4)
DFI with four 38 mm Keihin throttle bodies, oval sub-throttles, two injectors per throttle body
Transmission
6-speed
Final drive
X-ring Chain
Rake/trail
24.5 deg/3.7 in
25 deg/4.2 in
25.5 deg/4.3 in
25 deg/4.3 in
Front wheel travel
4.7 in
Rear Wheel Travel
5.3 in
5.2 in
Front Tire Size
120/65-ZR17
120/70-ZR17
Rear Tire Size
180/55-ZR17
Wheelbase
55.1 in
54.7 in
55.1 in
55.3 in
Front suspension
41 mm Inverted Cartridge Fork with Adjustable Preload, Stepless Rebound and Compression Damping
41 mm Inverted Cartridge Fork with Adjustable Preload, Stepless Rebound and Compression Damping, TiSiCN Coating
41 mm inverted cartridge fork with top-out springs, stepless rebound damping, stepless compression damping, fully-adjustable spring preload
Rear suspension
Bottom-link Uni-Trak system with gas-charged shock, stepless rebound and compression adjustability
Uni-Trak with Adjustable Preload, Stepless Rebound and Compression Damping
Uni-Trak with Adjustable Preload, Stepless Rebound, High and Low Speed Compression Damping, and Ride Height
Bottom-Link Uni-Trak with gas-charged shock, top-out spring and pillow ball upper mount, dual-range (high/low-speed) stepless compression damping, 25-way Adjustable rebound damping, fully-adjustable spring preload
Front Brake Type
Dual 280 mm Discs with 4-Piston Calipers
Dual 300 mm Floating petal-type rotors with Radial Mount, Opposed 4-Piston Calipers
Dual 300 mm petal-type rotors with Opposed 4-piston, 4-pad calipers
Rear Brake Type
Single 220 mm Disc
Single 210 mm petal-type rotor with single-piston caliper
Fuel Tank Capacity
4.8 gal
4.5 gal
Seat Height
32.5 in
32.3 in
Dry Weight
354.9 lb
362 lb
368 lb
Colors
2003: Black bearl, Candy Lightning Blue, Passion Red, Galaxy Silver
2004: Lime Green, Candy Thunder Blue, Pearl Blazing Orange, Galaxy Silver
2005: Lime Green/Flat Stoic Black, Metallic Raw Titanium/Flat Stoic Black, Candy Plasma Blue/Flat Stoic Black, Pearl Magma Red/Flat Stoic Black
2006: Lime Green/Flat Sonic Black, Ebony, Candy Flat Raw Plasma Blue/Flat Sonic Black, Titanium Silver with Tribal Graphics
2005: Lime Green
2006: Lime Green
2007: Lime Green, Atomic Silver, Ebony, Passion Red
2008: Lime Green, Vivid Yellow, Candy Plasma Blue, Special Edition: Ebony
Warranty
12 months
MSRP
$7999 USD
$8699 USD
$8899 USD
$8999 USD
References
External links
Kawasaki motorcycle timeline, 1990s–present
Type
1990s
2000s
2010s
0
1
2
3
4
5
6
7
8
9
0
1
2
3
4
5
6
7
8
9
0
Standard
W650
Versys
ER-5
>ER-6n/ER-6f/Ninja 650R
Z750
Z1000
ZRX1100
ZRX1200R
Sport
Ninja ZX-2R/Ninja ZXR250
ZXR400 (L Model)
ZX600J/Ninja ZX-6R
ZZR600
ZXR750
Ninja ZX-7R
GPZ900R
ZX900/Ninja ZX-9R
Ninja ZX-10R
Ninja ZX-12R
ZZR1400/Ninja ZX-14
Touring
ZR-7
GTR1000/Connie/Concours
1400GTR/Concours 14
Cruiser
Vulcan 900 Classic/VN900B
MotoGP
Ninja ZX-RR